When to Apply For Summer Internships: A Timeline was originally published on uConnect External Content.
You may have a stellar internship resume, a polished cover letter, and prepared answers to interview questions. But do you know when to start the internship application process? Knowing when to apply for an internship is necessary to increase your chances of landing one. Here's your go-to guide to understanding exactly when to apply for summer internships.
When to Apply for Summer Internships
Summer is the most popular time to do an internship, so knowing when to apply for summer internships is crucial for getting a leg up on the competition.
What's the exact timeline? It depends on what kind of company you're applying to.
Large, competitive companies: Applications for summer internships open as early as the winter a year and a half before the internship opens. So, for example, you might apply in January 2024 for an internship in the summer of 2025. Most of these applications open from winter through spring of the year before the internship.
General internships: Applications open in the late summer the year before the internship, and may stay open up to a few months before the internship.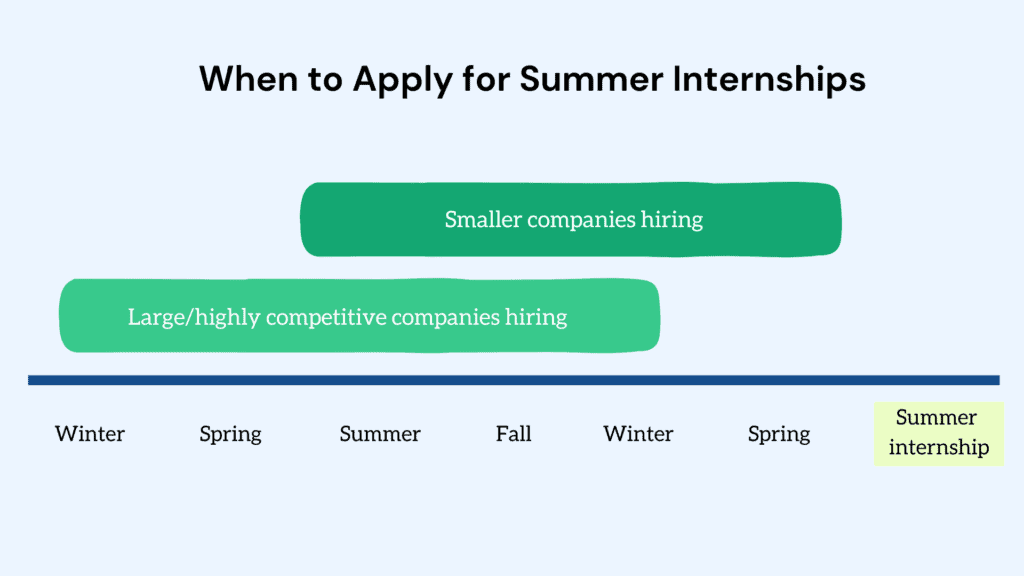 Regardless of what company you're interested in interning for, the takeaway is that applications open early. Even smaller companies open their general internship applications months before the position starts.
"Start the process early and strategically," says Matthew Warzel, certified professional resume writer and former Fortune 500 recruiter. "The timing of your application can significantly impact your chances of securing a valuable internship opportunity."
When to Apply for Summer Internships Tips
Now that you know the general timelines for when to apply for summer internships, how can you use that to succeed in your application process?
Focus on the Application Open Date
When figuring out when to apply for summer internships, your primary focus should be the application open date rather than the deadline. This is because a majority of companies review applications on a rolling basis, which means hiring managers review applications as they come in instead of after the deadline.
When you apply right when an internship application opens, you have less competition than when you apply later — increasing your chances of landing an internship.
>>MORE: Ultimate Guide to Internship Application Deadlines and Open Dates
Look at the Company Website ….
How do you find these application dates? If you're interested in a particular company, look at the internship page for clues on when internship applications open.
"Many companies have dedicated career or internship sections on their websites where they announce upcoming internship opportunities and their application timelines," Warzel says. "Additionally, subscribing to email newsletters or mailing lists of companies and organizations can keep you updated on their internship programs and application openings."
Get noticed by recruiters
Enroll in a free Forage job simulation to showcase your skills and connect with top companies.
…. and Company Social Media
If there's nothing on the company website, look at LinkedIn, Instagram, Facebook, TikTok, and other social platforms to see if the company posts about its open roles.
Sometimes, the company might not post about roles on its general pages, but employees from the company will! Get strategic and search for posts that mention the company and open positions (you can do this by entering keywords into the social media platform's search bar).
Get Familiar With General Internship Open Dates
If you don't have a particular company in mind, you can still get a sense of when applications for internships you might be interested in will go live. Research companies in the industry and look at internship pages to see if there's any indication about their application windows.
For example, if you're interested in finance or consulting, internships at top firms open as early as the winter of the year before the summer application. Even if you're still deciding whether you want to work at Bank of America or JPMorgan, you'll know when you should prepare to apply.
Network
Networking is a great way to learn more about what certain professionals do. Yet it's also a valuable tactic for gaining essential information about the hiring process. Set up informational interviews with people who work at a company or got their start in an industry you like. You can ask them more specific informational interview questions about the application process and timing during your conversation.
>>MORE: Learn how to ask for (and successfully conduct) an informational interview.
"Reach out to professionals in your desired field through platforms like LinkedIn, attend industry-related events or conferences, and join professional organizations or student associations," Warzel says. "By building connections and relationships, you may gain insights into internship opportunities before they are publicly announced."
Consider a Pre-Internship
Companies offer pre-internships to students to give them more information about what working at a company is like. Pre-internships are typically designed for first- and second-year students from underrepresented groups. During the pre-internship, you'll likely learn more about the company culture and hear from current employees. You might also speak directly with recruiters and sometimes get early access to internship applications. And you may get the chance to interview for summer internships before applications even open!
Prepare Your Application Early
If you're going to apply early, you'll need to prepare your application materials early.
"Aim to have your application materials ready at least a few weeks before the application period begins," Warzel says. "By doing so, you give yourself ample time to craft high-quality documents, seek feedback, and adapt your materials to specific internship opportunities. Being well-prepared not only enhances the overall quality of your application but also allows you to seize early opportunities and demonstrate your commitment and professionalism to potential employers."
What should you prepare? In general, you'll need the following: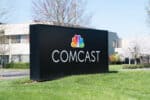 Comcast Unspoken Interview Fundamentals
Learn how to tell your personal story and ace any job interview.
Avg. Time:
2-3 hours
Skills you'll build:
Self-reflection, identifying strengths, verbal communication, video interviewing
When to Apply for Summer Internships: The Bottom Line
Whether you're applying for an ultra-competitive company or an internship at a local small business, you'll need to start your application process early. First, start researching when opportunities open. Then, prepare your application materials so you can be one of the first to apply — and beat out the competition.
"With careful planning and a proactive approach, you can enhance your professional development and gain invaluable real-world experience through a well-timed internship," Warzel says.
Gain the skills you need to be internship-ready with free Forage job simulations.
The post When to Apply For Summer Internships: A Timeline appeared first on Forage.